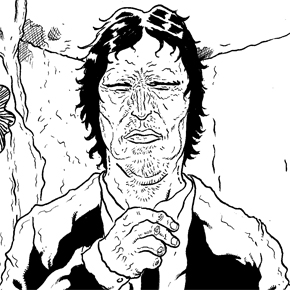 Hello! Welcome to my Big Cartel store, where you can pick up a copy of my small press comics and illustration.
A bit about me - I'm a comic writer from Glasgow producing mostly small press comics. In collaboration with Iain Laurie I've created the acclaimed surreal horror comedy comics Roachwell and Crawl Hole, both of which were nominated for Best Comic and Best Writer in the Scottish Independent Comic Book Awards, and also the experimental supervillian battle royale comic Metrodome.
More recently I've collaborated with Mark Brady on Medieval Times, six hand-made miniature comics containing the medieval warrior figure who inspired them!
I also occasionally do a bit of drawing, making my own weirdo comedy zines in the time-honoured DIY fashion inclduing my terminally grim bootleg Power Rangers comic Billy Quest and my infamous Ultimate Ross Geller Fanzine. I'm also an avid horrifier of vintage photographs and photocards, using Posca pend to turn the famous and unknown of yesteryear into 90s aesthetic badasses and inglorious warriors of doom.

Please have a look about, and if you're ordering anything then no doubt some of my Pophammer microcomics will also creep their way into your envelope!

Thanks for stopping by.